LADYSTYLING WEEKEND
De Uelenspieghel Uffelte
30 Aug - 31 Aug - 1 Sep 2019
FULLY BOOKED
Register WITHOUT partner at info@mariano-cosima.com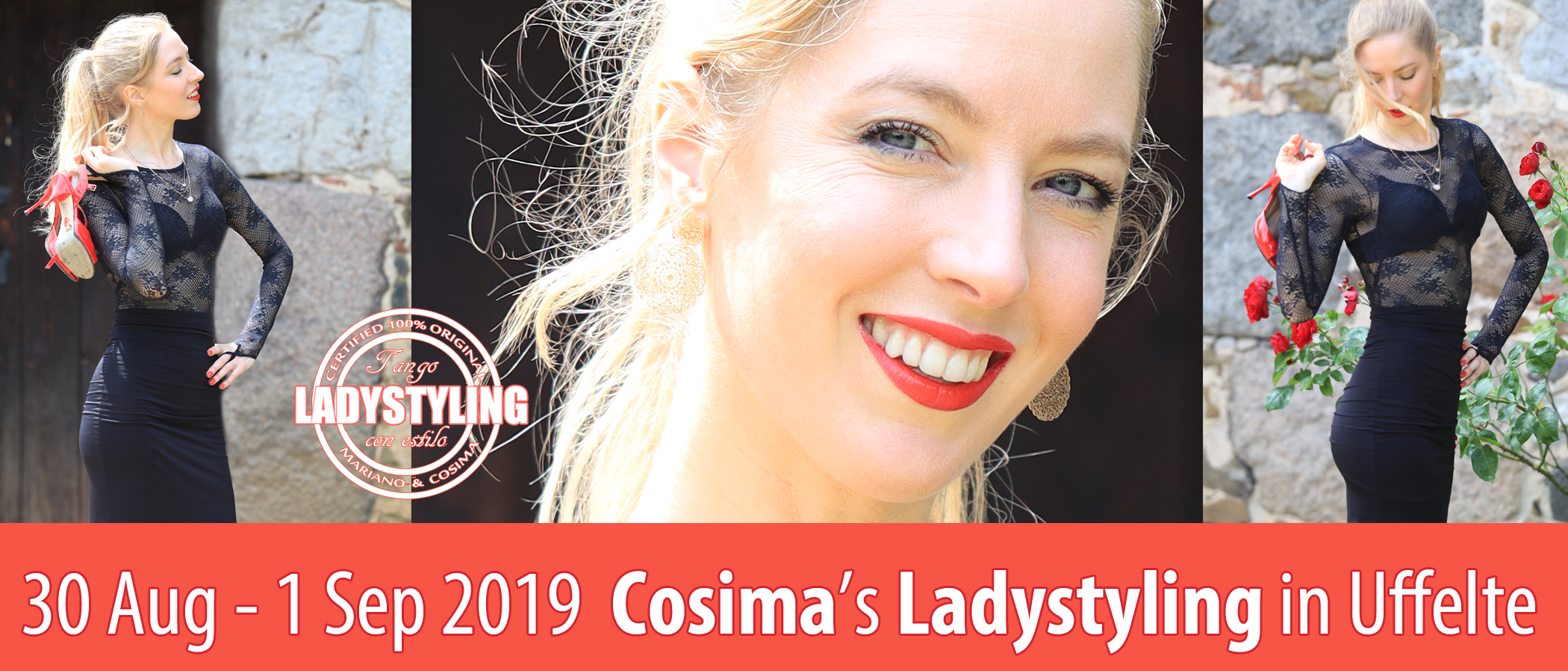 De Uelenspieghel
Ladystyling Weekend op het prachtige domein van De Uelenspieghel, omgeven door de betoverende natuur van Drenthe.
Rust & ruimte, ontspanning en genieten van de prachtige omgeving, zwemmen in het ven, boswandelingen, muziek maken, en natuurlijk heel veel tango dansen! De verzorging is uitstekend, met liefde bereide biologische, vegetarische maaltijden!
Verblijf: overnachting in De Uelenspieghel of op de camping van De Uelenspieghel (reserveren bij Annette).
Arrangement: ontbijt, lunches, diners, koffie & thee met koekjes
Aanbod: intensief seminar
Seminar thema's: tango argentino
Datum: 30 Aug - 31 Aug - 1 Sep 2019
Schedule: Start Friday at 20:00 hr - Finish Sunday 16:30 hr
Prijs tangoprogramma: 140 euro p.p. (reservering en betaling voor logies & maaltijden via Annette)
Adres seminars & salons: De Uelenspieghel, Winkelsteeg 5, Uffelte (NL)
Contact: info@mariano-cosima.com

Seminar for ladies
This seminar is created for tangueras. We will be spending part of our time on embellishments (adornos), connected to the music and your feeling, and part of our time on moving as a tanguera organically, comfortably and with presence.

From doing to being
From analysis to synthesis
Liberate your full potential as a Tanguera


About Cosima's Ladystyling

This seminar we will focussed on embellishments (adornos), connected to the music and your feeling, with organic movements, comfortably and with presence. With the knowlegde Cosima gathered during her 21 years of tango experience (music & dance), and her investigations and profound studies of body mechanics, tango music, and tango history, she created a unique and very efficient method for tangueras. The method is based on the most recent insights of learning processes in the fields of arts (in specific dance & music) and physical excercise. It helps you to improve your tango skills fast and effective, to move with more comfort, freedom & grace. You will feel the benefits of Cosima's method, and you will appreciate your dance as a 'follower', as a Tanguera, even more!


De Uelenspieghel
Dit seminar vindt plaats op De Uelenspieghel, Winkelsteeg 5, Uffelte (NL)

Kosten De Uelenspieghel
110 euro p.p. - kamperen in tent
115 euro p.p. - kamperen in caravan
140 euro p.p. - kamer of blokhut (double room)
160 euro p.p. - kamer of blokhut (single room)
Inclusief

twee overnachtingen in De Uelenspieghel
koffie, thee en koekjes gedurende het hele weekend
alle biologische maaltijden (2x ontbijt, 2x lunch, 1x diner)
Reserveren
Neem contact op met Annette om een kamer, blokhut of kampeerplaats te reserveren: annette@uelenspieghel.nl