SILVESTER WORKSHOPS + BALL | WUPPERTAL
31. Dezember 2018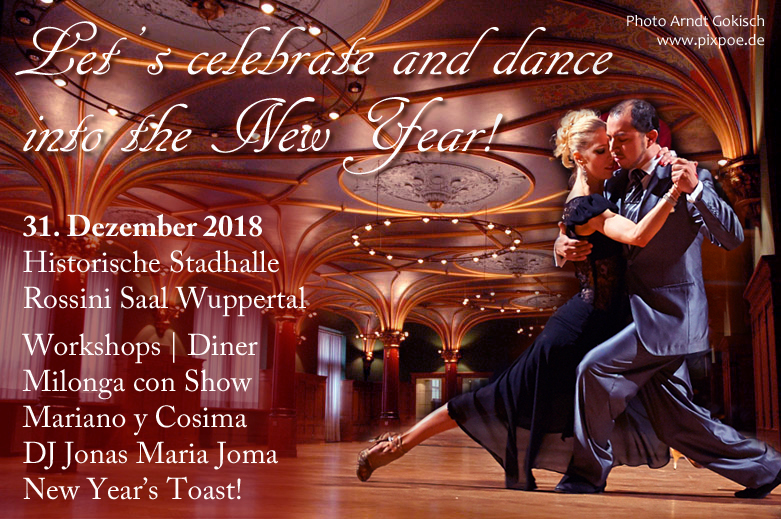 Montag 31. Dezember 2018
Workshops in die schönste Säle der Historische Stadthalle Wuppertal!
Workshop 1 | 14:15 - 15:30 Uhr




Barridas, Boleos, Colgadas
DE: verspielte und elegante Barridas für Sie und ihn in Kombination mit kleinen Boleos & Colgadas für den Tango Salon
EN: playfull and elegant barridas for him and her combined with small boleos & colgadas for salon


Workshop 2 | 15:45 - 17:00 Uhr




Swirling cadenas in Vals
DE: Wirbelnden Cadenas (Drehungen) mit Sacadas für Sie und ihn, perfekt für Vals Porteño, mit besonderem Augenmerk auf Umarmung und Verbindung. Vals will fließen!
EN: Swirling cadenas with sacadas for him and her, perfect for vals porteño, with special attention to embrace and connection.

Workshop 3 | 17:15 - 18:30 Uhr




Quebradas, Calecitas, Planeos
DE: Kreative Wege, um die Richtung mit Quebradas, Calecitas & Planeos zu ändern. Dazu einzigartige Adornos (Verzierungen) für die Damen
EN: Creative ways to change the direction with quebradas, calecitas y planeos, with unique adornos for the ladies


Silvester Ball

Buffet - Tangoshow - Nieuwjaarstoast om 00:00 uur!
Einlaß im Saal Rossini ab 19:30 Uhr
Die Ballnacht beginnt um 20:00 Uhr mit Musik von DJ Jonas Maria Joma und des großen Silvester-Buffet.
Auch ohne Buffet ist die Ballnacht buchbar, mit späteintritt ab 22:30 Uhr.
Freunden Tisch Silvester-Buffet
Wir machen einen "Freundentisch", wenn Du dabei sein möchtest, schicke uns bitte einen E-Mail (mit Gruppen-Ermässigung)e.
Contact: info@mariano-cosima.com